A Terrible Toddler | Child + Family Photography | Pekin, IL
Mom life, to an extent, was everything I pictured it to be. I supposed that means I had a rather grim outlook of motherhood then. My expectations were pony tails, t-shirts, yesterday's make-up, too many hot dogs, crying in the bathroom, and having a tiny human watch you pee. My expectations were to be up most of the night, to live off of magical mom fuel (known to dads as coffee, espresso, etc), and to generally become a walking zombie. Then, you know, the occasional elation at the accomplishment of a new milestone. Those warm fuzzies when you watch your baby sleep. Those rare moments when the true realization hits: this is MY kid. He was just this little burrito swaddled tightly in a blanket last week. Now time is passing in leaps and he tells me he's "hunrrrreee" and would like "BERRY MOM! BERRY."
Then there's the part you don't fully anticipate until you ARE a parent. Very rarely, you become completely terrified that this little boy who calls you Mom is your responsibility: it your purpose now to ensure he has the best opportunities, the brightest future, and the most rewarding childhood.
So how do I give him these things? Especially when the child is more often than not .... a terror. What's that phrase? A terrible, very bad, no good day? Yeah. That's a common occurrence with a two year old and a baby. But everyday I try to make the most of it. I don't pick up my camera enough, because I am too busy making memories to record them. I still drag the camera out for the big stuff though, like my terrible toddler's first haircut. Which brings me to the real story here. The day my son transitioned from a baby to a toddler in my eyes.
Baby curls are only there until they aren't.
So leading up to Clark's second birthday, Chris and I frequently disagreed over Clark's mop of hair. What if we cut them and they don't grow back? He's adorable the way he is. Who cares that it's messy? He's two! But when those curls really started to become a tad too pony tail length in the back, it was time to bite the bullet and get it trimmed. My bald little baby finally had enough hair to get a haircut.
Chris and I easily decided we would take him Jake's Place on Main Street. Chris has been going there for a few months now and really likes the place. Support small business, nice guy who does a great job, reasonable prices. Sure, why not?
You see, we forgot just exactly how much Clark can protest when we he doesn't want to do something. But in we went: the naive parents with the toddler and baby, mom armed with the big camera. We waltzed in sat at the little seating area as Clark looked around and explored. I just pretty much obsessively took pictures of the back of his head . But these were the LAST moments I may ever see those baby curls again.
When the man before us finished his cut, we stepped forward and attempted to place Clark up into the barber's chair. Uh, no. That wasn't happening. Clark immediately began to panic, the quick breathed whining that I associate with stranger-danger-anxiety. Great. Well, obviously Chris should sit down first and see that, oh hey! It's not so rough, look at dad! While I repeatedly tried to draw Clark's attention to his dad in the barber chair, Clark enjoyed everything but Dad in the chair.
"Wah-dur! Wah-dur! Mom. Mom? Mom! Wah-dur? A bike! A bike! Mom, a bike!"
We looked at that motorcycle out the window, the water cooler, and a pile of magazines on rotation for a good twenty minutes. At one point, I gingerly attempted to put the kid cape over his shoulders. That elicited a poorly articulated tantrum of "UH UH UH". But eventually it was Clark's turn again at last. This time Jake the Barber had us put Clark on Chris's lap in the chair. I successfully got the cape on him by explaining it was indeed a giant bib like for lunch! Jake brought out the "job well done" sucker to help keep him calm and told us, we would try just a little and if he still wasn't having it, we were done. It was important to Jake that a haircut be a great experience for even his littlest customers. We collectively cooed over Clark's natural growing curl-hawk (that's where the hair grows in a Mohawk fashion but all in curls) and decided to attempt to cut the pony tail length first.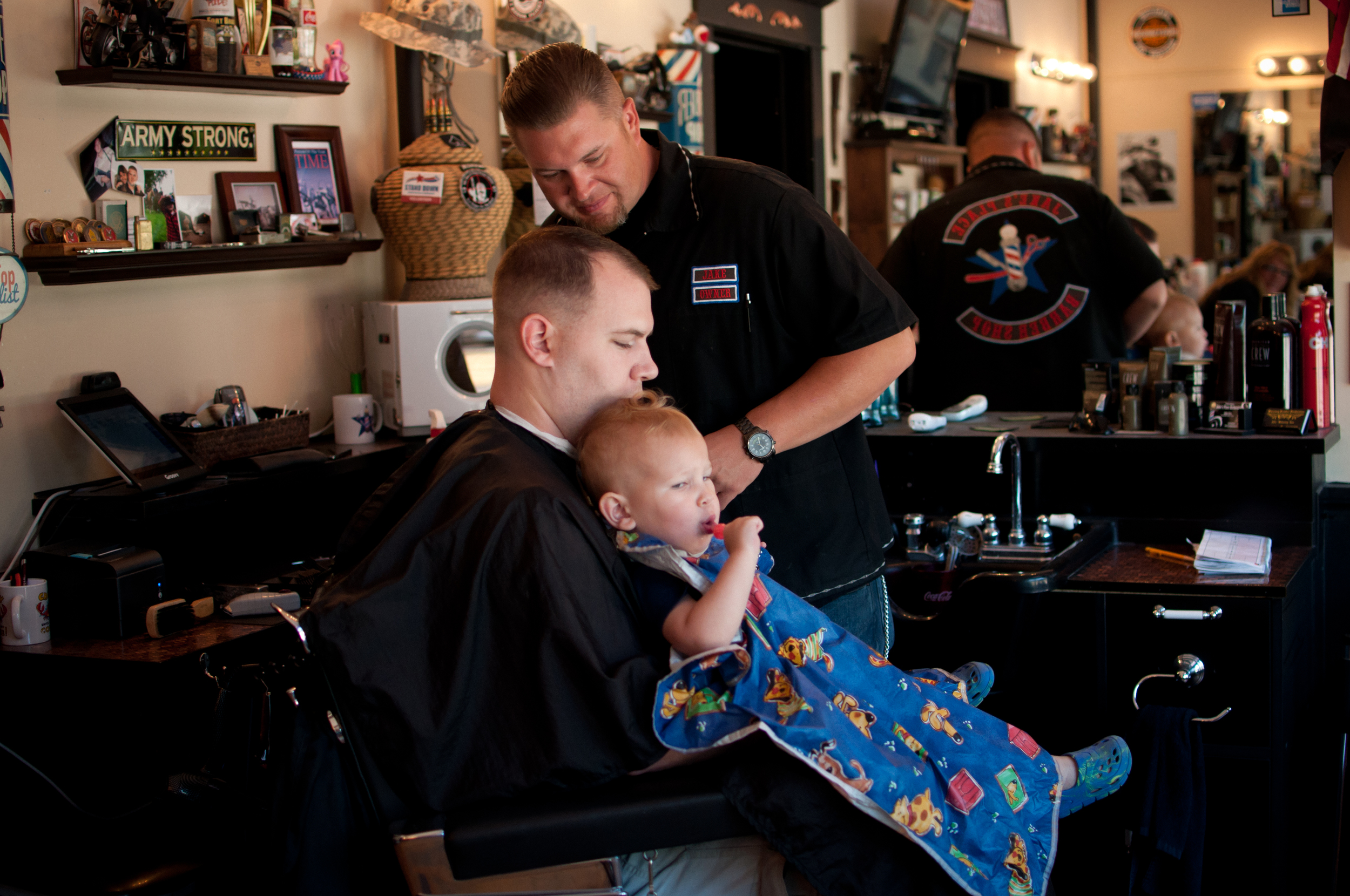 Yeah, that's all we got. Jake combed up the uncut hair into his hand and brought the trimmer within view. Immediate panic. Chris was then holding a death grip on our son's body and I stepped in to hold his chubby cheeks squished between my hands. All the while, Clark screamed bloody murder with a sucker half hanging out of his mouth and a steady stream of snot coming out of his nose. Once those long hairs dropped from Jake's hand, we were done. 47 seconds of torture was more than enough. And what do you know, when the "haircut" was all done, Clark was happy as can be. Sitting in the barber chair, trying to steal someone's popcorn, attempting to escape the building again. Clark was beyond thrilled when it was time to open the glass door and waltz back out of the shop to the car. And honestly, I was too!
We got the best of both worlds:
a little bit of baby curls left and no pony tail to speak of.
Turns out, a few weeks later, I ended up trimming Clark's hair myself mid-bath with a pair of hair scissors from Wal-Mart and a tub full of distracting toys. Clark barely noticed and let me get all I wanted with nothing more to say than, "hairrrur". Yes, Clark: hair! Goodbye hair. Hello Mom Cut. I brought Clark to Chris post mom-attempts-cosmetology and asked if his hair looked alright. Chris eyed me suspiciously like, what did you do? Surprisingly, he had very little critique of my handiwork. And we now had a terrible two year old with an almost Big Boy hair cut.
Just goes to show, no matter how much you plan or what you expect will happen, your children will still surprise you. They'll randomly shout "LOVE YOU" to strangers leaving your home. They'll exclaim, "AND PEPSI!" in Taco Bell drive thru to the person taking your order. They'll fall asleep eating dinner at the kitchen table mid chew. They'll find that place in the depths of your heart that is rarely seen and even more scarcely visited. They take root there. And as your child grows you grow. And when you think you have reached the limit of what you are capable of, you take life by its screaming chubby cheeks and giggle right at its tantrum.